The world is changing so fast in terms of developments either in Europe or Africa.
The high-speed network, transport, and social well-being. These changes brought transformation for travelers around the world.
The tradition of traveling in groups has been challenged by people who wish to travel solo. And leave their mark.
Because of the access to information and even online reviews. Solo travelers now feel confident and safe taking trips to other countries.
Africa is becoming the best vacation list for solo travelers than before.  Particularly Tanzania for wildlife and cultural tourism.
Tanzania is one of the best countries to visit for solo travelers in Africa.
With unique destinations like Ngorongoro Crater,  Serengeti, and Mount Kilimanjaro. Tanzania is renowned as one of the top African safari destinations.
Visiting Tanzania as a solo traveler can be so pricey. Coupled with long-haul flights, park fees, transfers, and accommodation expenses.
But also type of the safari or trip you wish to take will add extra cost to your safari while in Tanzania.
This article will share our complete guide for solo travelers in Tanzania.
You will get valuable information on where to visit and what to do and at what costs.
Either in Arusha , Mwanza or Dar es salaam. We will let you know where to visit for safaris and the best parks to visit at affordable prices as a solo traveler.
Before we dive deep let's discuss why Tanzania is the best place for the solo traveler.
Why is Tanzania the best place for solo travelers?
Visiting solo to Africa either for wildlife safaris, cultural tours, or beach holidays. Tanzania is the best option.
Tanzania is a peaceful country with generous people.  Tanzania is rated as the safest country to visit in Africa.
Tanzanian people are so friendly and willing to help foreigners. United by the Swahili language, Tanzanian people are so welcoming and respectful to everyone.
But you should take personal care about who you can trust while traveling alone.
There is no racism in Tanzania or political conflicts. There is peace and tranquility across the country. You can move freely as a solo traveler from one city to the other.
You can either decide to use public or private transport.
Tanzania offers many opportunities to you as a solo traveler. Being solo in Tanzania doesn't limit you from meeting new people.
Have fun and explore other people's cultures. Mingle with other solo travelers in restaurants, beaches, or even national parks.
Let the beauty of this country enchant you with a wildlife experience. cultural trips.
Walking safaris or even mountain climbing activities.  For instance Mount Kilimanjaro and Serengeti
You might be asking yourself what are the best places to visit in Tanzania for the solo traveler?
Since the country is vast these destinations are distributed across Tanzania.
Best places to visit solo in Tanzania 
Tanzania is a vast country in East Africa. Tanzania offers a lot of destinations and things to do for solo travelers.
Knowing where to visit and what saves you a lot in terms of time and costs
Tanzania offers different activities like game drives. walking safaris, bird watching, cultural programs, beach holidays, and historical tours. 
These are the best places we recommend visiting in Tanzania as a solo traveler. 
Serengeti National Park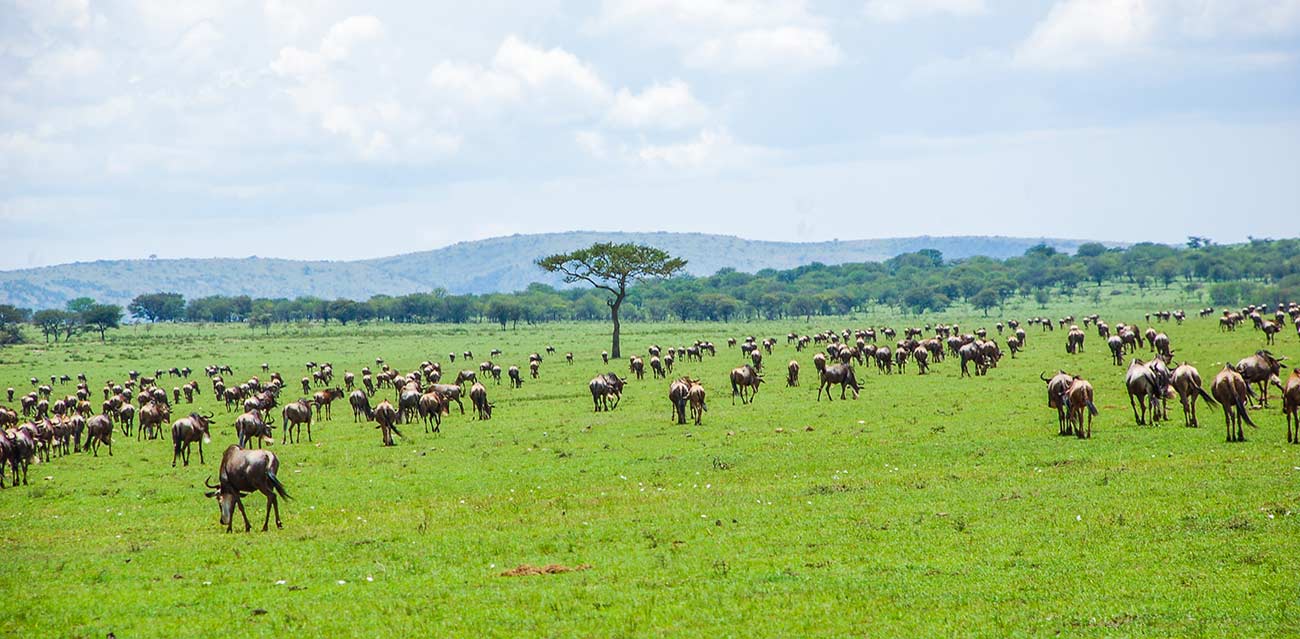 Serengeti National Park is the ideal safari destination in Africa. Is one of the seven wonders of nature on Earth.
Visiting this park as a solo traveler is the best gift you could offer to yourself.  You will get the best chance to explore this protected area comprising 30,000 km².
Depending on the time of year, you could be able to see the wildebeest migration.
The Mara and Grumeti Rivers, Central Serengeti well known as Seronera. Serengeti hippo pols and endless plain in southern Serengeti.
Southern Serengeti is the best place for the calving season from January to March each year.
You can request for 2 to 7-day safari to Serengeti.
You can decide to book a budget camping safari or luxury lodging trip in Serengeti.
This park offers different options for solo travelers to stay within the park.
Sometimes you can join a group of other solo travelers for cost-sharing and have fun.
Why Serengeti is the best place for solo travelers?
Most of the trips to Serengeti are organized by legal tour operators. They offer all-inclusive safari packages.
With tour guides, meals, safari jeeps, accommodation, and park fees.  This makes Serengeti ideal for solo travelers in Tanzania
Ngorongoro Crater 
Ngorongoro crater is home to a rare species of  Black Rhino in Africa. Ngorongoro also is the largest caldera on Earth.
As a solo traveler in Tanzania, this is the best place to visit.  You can decide to visit Ngorongoro Crater for 2 days or even a day trip.
Ngorongoro crater is also known as the "African Garden of Eden".
Is one of the UNESCO sites which serves as the world's largest active caldera. With more than 20,000 wild animals, Ngorongoro offers you the best chance to visit Olduvai Gorge.
Olduvai Gorge is believed to be home to the first human to live on the planet. Is the best area to visit for a historical tour in Tanzania.
Why Ngorongoro crater is perfect for solo travelers in Tanzania?
Like other parks including Serengeti and Tarangire national parks.  Ngorongoro offers safaris that are safe and organized by tour operators.
Is the perfect place for solo travelers and best for combined trips with other parks.
 Including Tarangire and Serengeti. You can learn more about Ngorongoro Crater here.
And if you wish to explore tours for Ngorongoro Crater, check this out.   4 Days Ngorongoro & Serengeti Safari
The Tarangire National Park
Thinking of the other best spot for solo travelers in Tanzania. Then Tarangire is the ideal destination.
Tarangire is a very accessible park throughout the year and is only 140 km from Arusha.
Tarangire National Park is an alternative to Serengeti national park. As a solo traveler in Tanzania either with a limited budget for safari or time.
Tarangire is the best park for day trips and even combined tours with other parks in Tanzania. Including Ngorongoro Crater and Serengeti or Lake Manyara National Park.
Tarangire is heaven for birds, large elephant species on Earth, and Lions. Leopards, Gazelle, Zebras, Spotted hyenas, and baobab trees across the park.
Tarangire is the perfect place for solo travelers. For either private trips or group joining safari departing to this park while in Tanzania.
Mount Kilimanjaro 5,895m  – The Peak of Africa 
Best known as the peak of Africa. Mount Kilimanjaro is also known as "Kili". Is the tallest free-standing mountain on Earth standing at 5,895 meters.
Mount Kilimanjaro offers an incredible experience. For whoever dares to accept the climbing challenge.
Mount Kilimanjaro is a snow-capped mountain in a tropical area of Africa.
Is a lifetime adventure for those who will reach its peak at 5,895 meters.
The best experience and sense of achievement are the rewards that come with this trip. By  climbing Mount Kilimanjaro
Why mount Kilimanjaro is the perfect place for the solo traveler? 
Despite all the climbing challenges in Kilimanjaro climbing. Yet this is the perfect destination for solo travelers.
You can decide to climb Mount Kilimanjaro for either 5 or 8 days. This variance is due to the climbing routes you decide to choose.
Its best routes for climbing include  Lemosho, Rongai, Umbwe, and Marangu (coca-cola).
Each route offers a unique challenge and different costs for climbing.
The recommended route is Lemosho with the highest climbing success rates followed by Machame. Marangu and Rongai routes . 
If you are not comfortable with camping accommodation during climbing. Then focus on climbing through Marangu which offers mountain huts.
Other routes offer typical camping options for climbers.
All activities during your climbs are organized by tour operators. You will have a supporting crew including trained mountain guides.
You can learn more about Mount Kilimanjaro here
Check  out: 7 Days Mount Kilimanjaro Climbing – Lemosho Route
Visit Bushmen in Lake Eyasi
At the base of the Serengeti plateau, is where you could find this lake. Is a shallow and alkaline lake in Tanzania.
Thinking of a unique safari in Tanzania. Then you should not forget the Datoga and Bushmen's experience.
Lake Eyasi is one of the few places remaining in Africa where you can find unique culture.
These communities still depend on nature to survive.  Lake Eyasi is home to the Hadzabe and Datoga tribes.
Why is Lake Eyasi an ideal place for solo travelers?
Visiting northern Tanzania is not only about wildlife safaris and Maasai people.
Taking a trip to this area will change your perception of the world. Experience the true nomadic life depicted by these communities.
As a solo traveler in Tanzania takes part in hunting and gathering with Hadzabe and Datoga.
You will learn how to hunt and even learn how to make weapons like knives and bracelets from the Datoga tribe.
The Island of Zanzibar 
This is the perfect destination for solo travelers in Africa. With world-class sand beaches in Tanzania.
The turquoise waters and grand coral reefs. As the solo travel in Tanzania, Zanzibar Island offers you many excursions to do.
Snorkeling, kitesurfing, swimming, dolphin trips, spice tours, and historical tours in Stone Town.
Why Zanzibar is the perfect destination for solo travelers?
Zanzibar is a beautiful tropical destination to relax. Take stunning beach photos to spice up your African vacation holiday.
While immersing in Tanzania's culture and history.   The key note to remember is, that 80- 90 % of this island is Muslim.
You should wear clothes which cover t your knees and shoulders. Half-naked clothes are not allowed on public beaches.
Unless is private beaches offered in luxury lodges and hotels in Zanzibar.
While in Zanzibar you can visit different parts including Spice Island.
Stone town, Bwejuu. Matemwe and Jambiani are among the beaches where you and others who travel solo can relax and enjoy.
Mwanza City 
Well known as a rock city, Mwanza is the place to be if you wish to enjoy the beautiful weather in Tanzania.
Is a cool city with less traffic like Dar-es-Salaam.  Mwanza is a strategic city for business. Other regions including Mara, Simiyu, Shinyanga, and Geita depend on it.
As a solo traveler in Tanzania, this city will offer the best traditional foods. And extended beaches to relax and enjoy.
The beaches of Lake Victoria are unique attractions compared with other cities.  Thinking of the best foods and fresh tilapia are the key features of this city.
While in Mwanza is also possible to visit Bujora Museum. You will learn and explore the Sukuma kingdom.
Also, if you decide to do wildlife safaris it is possible to visit Serengeti. And Rubondo National Parks.
If you have limited time you can visit Saanane National Park, it takes less than an hour to reach this park. 
Mbeya City
The green city of Tanzania is a beautiful place to visit as a solo traveler. While on the southern highland.
Mbeya is the perfect place for solo travelers in Tanzania. You can experience a greenish environment than in any other part of Tanzania.
As a solo traveler in Mbeya, you have an opportunity to visit  Lake Ngozi.
This is a magnificent lake that does not receive or pour its water anywhere. This lake is connected with Nyakyusa customs and traditions.
You will get a chance to learn about the chiefdom systems of the tribe living around this lake. And you will also visit Lake Ngozi
The other beautiful place to visit as a solo traveler in Mbeya is Mbozi Meteorite.
Is the only place in Africa you could observe a falling meteorite from the sky.
This is one of the few meteorites that successfully reaches the Earth without total burning. Don't miss that on your list.
While in Mbeya you can visit Matema beaches. These are the beautiful white sandy beaches in Tanzania.
Matema beaches are of Lake Nyasa or sometimes pronounced as Lake Malawi. You can have the best chance to relax and swim.
Enjoy the boat ride activities and don't forget the best sea foods including sardines.
It is easy to connect to Zambia by using the TAZARA railways. But also if you have an interest in wildlife safaris.
You can visit Ruaha, Mikumi, or even Selous Game Reserve.
Moshi Town in Kilimanjaro 
Mount Kilimanjaro can be seen in any part of Africa, but if you want to visit you should pass Moshi town.
This is the other place in Tanzania where you can relax and enjoy real safari adventures.
Moshi is well known for coffee shops and many curios shops. As a solo traveler in Tanzania, you can organize short walking trips.
You can visit the Materuni waterfalls. Chemka waterspring, Lake Chala and day trips to Mount Kilimanjaro.
But also organizing safaris to famous parks in Tanzania including Serengeti national parks. Tarangire and Ngorongoro crater is possible through licensed tour operators in Tanzania. 
You might also wish to climb Mount Kilimanjaro or visit Zanzibar Island while in Moshi.
This place is well connected to other regions including Arusha. And is nearby  Kilimanjaro International Airport (JRO).
Learn more about  Mount Kilimanjaro climbing packages 
Arusha City 
The Geneva of Africa, Arusha is the safari capital of Tanzania. Is a vibrant city with more safari companies than any other part of Tanzania.
Arusha is not as busy as other cities in Tanzania. It's better treated as the diplomatic city of Tanzania.
As a solo traveler in Tanzania. This city offers you thousands of options to explore, learn, and relax.
Whether you wish to do a safari in Tanzania or enjoy your weekend at Maasai Bomas. This city has it all.
Is the only city with many people who are multilingual because of tourism activities.
Among the cities that depend so much on tourism, Arusha is on the top list followed by Zanzibar  Island.
As a solo traveler, you can either decide to visit nearby waterfalls. Chemka hotsprings ,meauseum.  In the case of tour packages, Arusha is the best place for organizing your trip.
It can be a day trip to Tarangire or Ngorongoro Crater or combined safaris with other parks.
As a solo traveler in Tanzania. Arusha offers you a mobility advantage if you want to visit Nairobi- Kenya.
Or take a flight to Zanzibar or depart home via Kilimanjaro Airport (JRO)
In case you are interested in our safari packages from Arusha, you can check them out here.
Best advice for solo travelers in Tanzania?
Despite what this beautiful country has to offer including beautiful beaches.
Mountain and endless wildlife parks. You should consider these facts as a solo traveler in Tanzania.
Whether your interest is a beach holiday, wildlife safaris, or Kilimanjaro climbing. Or even cultural experiences, Tanzania has it all. 
Traveling solo across this vast country can be costly. You can opt for a group to join the safari to share costs and have fun.
But if you are prepared for a private safari here are the best tips while soloing in Tanzania. 
Packing list for your trip or safari 
Your traveling solo to foreign destinations bears in mind simplicity. Pack a few items and learn to live with that limitation.
Having a light bag on safari can save you a lot. Whether on flights or even moving around the street.
You should only focus on packing essential items for that trip. If you traveling in Africa for wildlife safaris, leave your laptops at home.
Many safari camps do not have a reliable power supply to charge your computer.  Be simple and enjoy your trip.
Book your trips with reliable tour operators 
You should know by either researching or even asking for recommendations. It can be from friends or families who have been to the destination you wish to visit.  
In some countries like Tanzania. Some tours are not offered by individuals. You must use licensed tour operators.
For climbing Mount Kilimanjaro or even visiting Serengeti. Tour operators should pay for their permits and plan for their trips.
It could be different from other places around the world. But you can not be far from the truth that knowing the best companies or guides.
Who can show you around in foreign destination is the best idea for the solo traveler
Budget for your trip in advance 
Like other trips, you can take in your life. Knowing your safari costs and sticking to them will help you so much while in Tanzania.
Without a safari budget, you may fall into the trap of buying stuff you never intended to buy. Or do other activities which are out of your to-do list.
If you're planning for a private safari, you should know that a safari can not be cheap.
The cost is derived from many factors including the type of accommodation you need to use on your safari.
You should either involve your safari expert and negotiate for better discounts.
You can read more about safari budgeting for solo travelers here. We have covered a lot about how to save costs as solo travelers around the world. 
Make sure you pay for travel insurance 
Travel insurance is bulletproof for your safari or trip anywhere in the world. There is some uncertainty while traveling abroad.
Anything could happen that needs help. You might fall sick, or your staff gets stolen or lost. You can claim that from the travel insurance companies.
Some travelers decide not to buy travel insurance. But you should know clearly that if anything goes wrong you're responsible.
Whether for medication recovery of lost items or missing flights while abroad.   There are many reputable travel insurance companies around the world.
You can read more on our guide for Travel Insurance for Africa 
Safety should be your priority
Traveling to a foreign destination including Tanzania is an exciting thing to do.
But embrace the truth that not everyone you meet will be a good person.
You should learn to have a low profile while in other countries.
Don't make yourself an easy target for pocket pickers.
Everyone will find a way to sell you something or pursue you to help. Is very common around the world. Don't feel shy to say "NO". Don't promise.
Try to avoid too much alcohol
This one may be obvious, but let this be a friendly reminder while in Tanzania.
Enjoying a drink or two with a new travel mate is great, but it can quickly turn dangerous if you overdo it.
Drink in. moderation and always be aware of your surroundings.
If by chance, you do overdo it, never walk home alone and have a walking buddy to safely get you to your lodge or Hotel.
Conclusion
Traveling far from home to a new destination like Tanzania. It will not be easy without courage and enough preparation.
Despite Tanzania being the safest country to visit in Africa for safari.
Our dedicated safari specialists for Tanzania are always ready to assist. Plan with us for your dream Tanzania solo trip.
With Blessing Safaris, every detail of your safari is taken care of by our team.
Your satisfaction is our happiness. So, what are you waiting for? Contact us now!  
If you're ready to go for your dream vacation in Africa, then book any of these trips :
7 Days Mount Kilimanjaro Climbing 
Travel Tips Categories
Must Read Articles
Other Travel Information